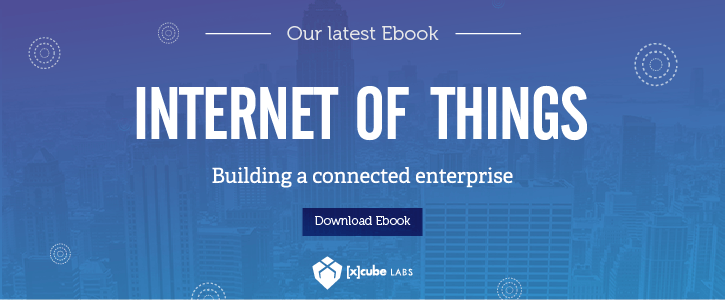 According to Gartner, 4.9 billion connected things will be in use in 2017, up 30% from 2014, and will reach 25 billion by 2020. It  further estimates that IoT will support total services spending of $69.5 billion in 2017 and $263 billion by 2020.
IoT is not a buzzword anymore. It has slowly consolidated into a powerful force and is now set to disrupt businesses. We are amidst next wave of digital disruption, more powerful than the internet and mobile. C suite executives and other key decision makers have to now quickly figure out on the impact of IoT in the industry and how it can be leveraged to their advantage.
Jim Tully, Vice President and distinguished analyst at Gartner says, "The digital shift instigated by the Nexus of Forces (cloud, mobile, social and information), and boosted by IoT, threatens many existing businesses. They have no choice but to pursue IoT, like they've done with the consumerization of IT."
Our executive guide- "Internet of Things: Building a connected enterprise" will help decision makers in understanding the potential of IoT in enterprises and spells out practical steps to success.
What's driving the IoT?
Find out the key technology enablers and business factors that's driving adoption of IoT in businesses.
The big gains
Discover how building a connected enterprise can transform your business and deliver benefits like increased productivity, reliability, cost savings etc.
Opportunities galore in enterprises
Get insights on how businesses in manufacturing, automotive, retail, healthcare etc., can leverage IoT today and in future.
Steps to Success
Key success strategies that can help your business optimally benefit from IoT and maximize hard dollar ROI.
download ebook