At their Durathon battery factory in Schenectady, N.Y., the IoT helps the company collect data about processes going on 24X7. Through the 10,000 sensors on the assembly line and the sensors in every single battery, managers can instantly find out the status of production which is then shared with coworkers in other departments.Sine-Wave, a company that focuses on technological solutions for businesses, has created a customized IoT program that resulted in increased safety and communication in mines. They have designed a browser-based application that allows users to communicate with workers, operators, and machines in the mine, as well as "see a real-time view of all activities underground [including] custom mapping of each mining operation." By knowing what's going on in the underground mines in real time, users can avoid safety hazards and respond to emergencies quickly.
Source: www.forbes.com
Internet of things is gaining traction in manufacturing industry. The traditional manufacturing process was one that involved hierarchy, a linear process and time consuming at the most. Heavily dependent on the assembly line and decision-making capabilities of humans subjected to many errors and constraints, one process halting had the effect to disrupt the entire manufacturing process itself.
Changing face of manufacturing
With Internet of Things comes in the fourth predicted industrial revolution – a revolution so big and so connected that the lines that define process, manufacturing, and design would be all blurred and there will remain just one unified system. Following the former three revolutions – the steam engine, the conveyor belt, and the first phase of IT and automation technology – each of which changed and improvised the manufacturing process, IoT is forecasted to bring in such significant variations that promise to change the face of manufacturing altogether.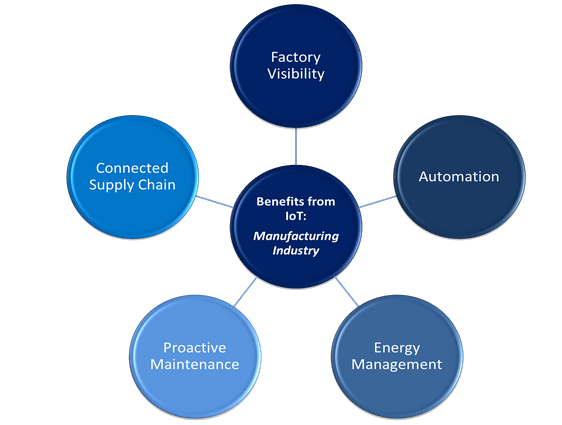 Processes that are intelligent
Imagine a process that is intelligent enough to forecast and schedule its own inventories and stock; a process that is so introspective in nature that it is not able to observe and calculate its own data but also takes measures to rectify its lag of faulty phases; a process that leaves no space for wastage of resources or time, and always able to maintain the scheduled deadline; a process that leaves no space for human errors and takes into account all the circumstances that can go wrong and is tuned to provide contingency solutions. Sounds pretty futuristic and savvy, right? This is the present and the future as promised by Internet of Things and its impact in manufacturing!
How is this possible?
IoT enables interlinking of all the processes, products, people and infrastructure so there is easy exchange of information and analysis between them. This makes all the elements of manufacturing more informed and intelligent, thus revolutionizing logistics. The potential of IoT in manufacturing is high with the impact it can cause in the field of transportation and logistics that work hand in hand with the aid of sensors and big data analytics enabling the flow of material that becomes completely autonomous.
IoT enables reduction of energy usage during peak periods with smart networks communicating among devices. The usage and the time of the energy being more utilized and in high demand, it helps take measures in reducing consumption by communicating with devices directly and preventing system overloads which, in turn, optimize the total cost of energy generation and consumption.
Automation and Interconnectivity
IoT is key to a connected supply chain system and plant floor automation. It's a known fact that automation and interconnectivity enables measuring operating parameters such as temperature, pressure, alignment or thickness at a process level and send this data to a remote controller which helps gauge the overall action required.
All this is completely automated, leaving no space for human errors or delay. Proactive maintenance would be a normal routine and this helps in the management of critical assets and resource optimization.
On data sharing and security
Although these are early days for Iot in manufacturing, there is scope for more and profitable venture in the space. The only concern it raises currently is that of data sharing and data protection. However, it's one of the most ventured out fields with vast potential in future as the whole world expects IoT to be something of future. Once data security is taken care of, Iot in manufacturing can open itself to new possibilities that amalgamate process not just with logistics but also with IT. The result: boundaryless, seamless opportunities!