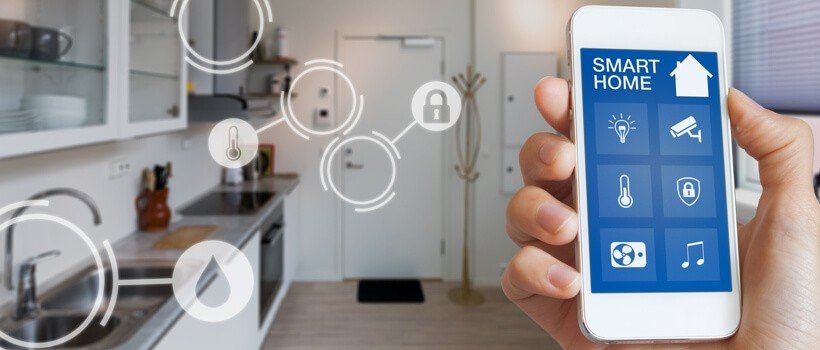 Introduction To Home Automation
Technology has fast evolved in the last decade. Web, mobile, cloud, social, big data analytics & Internet of Things- disrupting the way we live and work. Powered by powerful gadgets and advanced technologies, our homes too are in for a massive transformation. While connected homes are going mainstream, the market still has a long way to go before it reaches its full potential. Awareness with respect to value propositions has not been realized by most of the consumers and early adopters face significant pain points that needs to be addressed. In this post, we will discuss connected homes in great detail to understand its potential, the technology behind it, compare smart home hubs, various challenges blocking the growth of connected homes and what it holds for the future.
We use so many appliances at home that often it becomes difficult to keep track as to whether everything is switched off or not, especially after stepping out of the house. Smart homes do make life easier and more convenient. Who wouldn't love being able to control lighting, entertainment, and temperature from their couch? The Internet of Things has made it easier than ever to set up a smart home in which you can remotely control your door locks, lawnmowers, lights, thermostats, vacuums, and even pet feeders, using your smartphone and an app. It's also made it very easy (and relatively affordable) to monitor your home from just about anywhere. Connected devices have reached every nook of the home.
In this ultimate guide, we will explore
4. The Amazon Echo Vs Google Home Vs Apple HomeKit
5. Challenges Facing Connected Homes
6. Merits and Demerits of Smart Homes
7. Business Opportunities in Home Automation
What Is A Smart Home?
Home automation or smart home (also known as domotics) is a house that is equipped with network-connected products or "smart products," connected via Wi-Fi, Bluetooth or similar protocols. These protocols are used for controlling, automating and optimizing functions such as temperature, lighting, security, safety or entertainment, either remotely by a phone, tablet, computer or a separate system within the home itself. All such automated devices also receive as well as interpret their owner' instructions and then behave accordingly.
The home automation concept utilises Internet of Things technology that integrates objects with the internet, thereby connecting them all to a common platform which can be controlled by the user. Whether you're at work or on vacation, the smart home will keep you informed about what's going on, and security systems can be built to provide an immense amount of help in an emergency. For instance, not only would a resident be cautioned with notification of a fire alarm, the smart home would also unlock doors, dial the fire department and light the path to safety.

It is speculated that the home automation industry could witness highly favourable sales figures in the upcoming years. Looking forward to this speculation, consumer electronics manufacturers are ramping up their product lines in the hope that home automation finally hits the mainstream. Thanks to smartphones and tablets, and the many home automation apps that are now available, this trend is only expected to move north.
Benefits Of A Smart Home
What's the benefit of all this super advanced connectivity? In a single word, convenience. Having a smart home lets you do a lot of the things that you'd normally do — like adjusting the air conditioning, turning off the lights, preheating the oven, lending a key to your neighbor — with a lot less effort. Some appliances will learn your schedule and activities while you can set schedules for few of them, so that certain things will happen at specific times of day, and the amount of effort you have to put toward managing your home is drastically reduced.

Connected Home Solutions
There are a lot of great smart home products on the market right now, and many others are entering the market as we talk. The "smart home" concept is taking off and you should be keeping up, otherwise you'll end up missing out on the future. A lot of folks ridicule the idea of smart appliances but we're shifting into an age where it's becoming less of an equipment with a purpose and more of a desirable luxury.

Smart appliances are cutting edge models that can connect to the Internet and perform more advanced tasks than traditional appliances. What exactly can they do? Well, that depends on the particular model at hand. Let's take a look at some of the more useful smart gadgets currently available.
Home Surveillance System
Security cameras are the first line of defence when it comes to protecting what's most important—your home, property and family—and they are a crucial part of any home surveillance system.
Not everyone understands how to go about making their home safe and secure, But they do  want a shielded home. There are just too many products on the market, and with the advent of smart tech like the Samsung SmartThings and Google's Nest, the possibilities are nearly endless. So what should a homeowner do? You need to figure out exactly what your home needs only then you can begin to narrow down the type of home security system that's right for you and your family.

A smart home security system connects to your home Wi-Fi network so you can monitor and control your security devices using your smartphone and an app. Basic systems typically include a couple of door and window sensors, a motion detector, and a hub that communicates with these devices using one or more wireless protocols such as Wi-Fi, Z-Wave, ZigBee, or a proprietary mesh network. A smart security system offers components that work together in a seamless environment and can be manipulated using customized rules. Most of the systems have a mobile app that lets you use your smartphone as your command center to arm and disarm it, create rules, add and delete components, and receive push notifications when alarms are triggered.
Thermostats
A typical room thermostat just gives you the option to change the temperature in your home using a dial or control panel whereas Smart thermostat is a smart technology allows you to remotely control your home's temperature via a tablet, smartphone or desktop for greater control over your central heating.
It's smart because it "thinks" and remembers for you. It learns your normal schedule by taking your movements into consideration, and turns itself off when nobody is home. Some models can even detect occupancy in different rooms of the house and adjust temperatures accordingly. And of course, it provides you the ability to change things on the fly from wherever you are (via smartphone, tablet or laptop) when your schedule changes.
A smart thermostat gives you more user friendly, more efficient, and more accessible control over your home's heating using three basic components.

The first component plugs directly into your boiler and can wirelessly talk to the second component, the in-home device that is the thermostat and main control. The third component is an app that is downloaded to a smartphone (or tablet). Users can remotely control the thermostat/main control device via the app, allowing them to adjust their heating from wherever they may be. This is the basic functioning of most smart thermostats.
Lighting
Smart lighting networks fit into the home automation trend and will surely modify the home lighting style, forever. Smart lighting incorporates many technologies so that either indoor or outdoor lights will work automatically under certain conditions. Every smart lighting network is different from the other, but some of the more significant solutions feature smart lights that are capable of instantly switching on when someone enters a room or changing colour when something occurs.
Smart lighting networks vary drastically, but generally, their lights can either work independently or together when connected. There are two types of smart lights: sensor-integrated and non-sensor integrated and two main ways of controlling smart lights: control hubs and smart devices.
There are some of the most popular smart lighting options out there like Philips Hue, LG Smart Lamp, Samsung Smart Bulb and many more.
Smart lighting eliminates the need for you to get up and flick that switch. The network does all the work for you, automatically, though you can still program the lights to respond as you wish. The sensors that the smart lights have  help identify people and things like when they need light, as well as how much they may need.
Home Automation Hubs
Smart homes are no longer some sci-fi fantasy—they have truly arrived, thanks to home tech hubs such as Amazon Echo, Apple HomeKit, and Google Home. These devices allow homeowners to access all of their smart home integrated technology from locks to thermostats to music and far more through voice commands. Those days are gone where you had to type a question or command into a search bar or manually manipulate a control panel.
Only with three strong options available , you might be wondering: Which smart home hub is right for me? They may all do similar things and be compatible with the same third-party products (including Nest thermostats, Philips Hue lights, and SmartThings home security), but there are some significant differences among these devices.

Amazon Echo : "Alexa"
Amazon Echo is a smart voice assistant speaker which has been released by Amazon and controlled by a cloud-based voice assistant called 'Alexa'. Amazon has stood out in the digital market by launching Amazon Echo in November 2014. It is basically a bluetooth connected speaker that plays music from Spotify and Pandora. Another very remarkable feature of Amazon Echo is that it can control light automatically and HVAC home tech paradigm with a voice-activated voice assistant name Alexa. Amazon Echo ($179/£150) is one of three speakers that has become a part of Amazon's lineup of Alexa-powered home devices. Joining the Echo earlier this year were the Amazon Tap ($130) and Amazon Dot ($50/£50).
Amazon Echo has seven microphone sensors called "beam-forming technology," situated under a LED ring at the top of the device  that will hear your voice from any direction. Amazon Echo is a good listener as it can hear your voice even if there is any background noise. You can start chatting with Amazon Echo by saying 'Alexa' or 'Amazon' which you can change in setting in Alexa App. Alexa is similar to Google Assistant, that processes data in the cloud. It will run without any internet connection. So, you don't need to spend money on internet packages. So, Amazon Echo is very interesting device it can do more when you begin chatting with it.
Amazon Echo is a minimal cylinder that measures 9.25 inches tall and 3.27 inches around and weighs 2.34 pounds. It's a bit tall for shelves but otherwise unobtrusive. It comes in black or white.
The lower half of the Echo is covered in tiny perforations for the speaker grille, while the top half has a volume ring that lights up whenever Amazon's voice assistant, Alexa, is activated. It has two buttons: one that turns the microphone off, and a multipurpose Action button.
Amazon Echo was specially designed for the music. You can ask Alexa to play music with Alexa Voice Service. You can also ask Alexa to provide information, news, sports scores, weather, and more. You can also play music from Amazon Music, Prime Music, Spotify, Pandora, iHeartRadio, and TuneIn. You can connect your phone with Amazon Echo via Bluetooth. You can also ask Alexa to book Uber or order a Pizza. Amazon's Alexa skill is an app that works with Amazon's hardware system which gives you more personalized experience. There more than 3,00 Alexa skills that allows any third person to create the skill sets. You must install skills from the Alexa App, it is not included by default. As long as the sleek cylindrical speaker is within earshot, you can say "Alexa" hen ask it to play music, lock your doors, and more. Thanks, Alexa!

The Echo is by far the leader of the pack when it comes to the number of definable "skills" with 300 and counting—from reading your Fitbit stats to calling Uber. And if you're a Prime member, the Echo can order products. Just say, "Alexa, buy me a toothbrush," and it'll place the order. It's almost too easy to order stuff. To keep in mind, Echo may not understand everything you're asking. You may want to go ahead and give it a shot if you want a tried-and-tested product. If you're put off by the nearly $200 price tag, try the Amazon Dot ($49.99), which has the same capabilities only with a smaller and less sensitive speaker.
Google Home: "Ok Google"
Google Home is a voice activated "Ok Google" voice assistant device introduced by Google. Google Home was first announced in May at Google I/O event and then after five months it went official from November 04. Google Home is now available in fabric and metal varieties and is integrated with high-excursion speaker that delivers "crystal-clear highs and rich bass." So, you can play music on multiple Google Home devices at one time. However, Amazon Echo doesn't communicate with each other well like Google Home.
The Google Home measures 5.62 inches tall and 3.79 inches around. It weighs 1.05 pounds, and it comes in white, with swappable bases available in several colors and materials, including carbon, copper, snow, mango, marine, slate, and violet.
Google Assistant is one of the significant features of Google Home. Google Assistant uses cloud to answer your questions just like Alexa does. However, Google Assistant uses the everyday language hence, you can easily chat with Google Home. Google Home is compatible with Google Music, YouTube, Spotify, Pandora, and TuneIn to play music. You can also set alarms, get dictionary definitions, and, of course, control lights and thermostats with Google Home. Google Home works with Philips Hue, Samsung SmartThings, and IFTTT. Its also compatible with other Alphabet products, including Google Chromecast and Nest.
With the simple phrase "OK Google," Google Home is ready to play music from your app of choice (Google Play, Spotify, Pandora), manage your grocery list, set alarms, translate phrases, turn on your lights, and essentially "Google stuff" with your voice and accomplish anything you could type on your laptop or Android phone.
While the voice-tech capabilities between Google Home and Amazon Echo are similar, experts generally agree that Google Home's assistant has a better grasp of language so you end up with fewer conversational dead ends.
Google Home is feeble in comparison to the Echo in the number of "skills": Echo boasts over 300, from telling jokes to thumbs-downing songs, while Google Home has only around 80. But that's likely to change as Google starts to roll out newer versions.

Purchasing can be a decision , if you want the smartest smart home hub where it feels like you're talking to an actual person. It's also $50 cheaper than the Echo and "a little more friendly looking than Echo thanks to the interchangeable bases" with different colors and coverings (metal or fabric).
Apple HomeKit: "Hey, Siri"
Apple HomeKit was announced in 2014, Siri works with Apple HomeKit on iOS. Apple HomeKit is specially designed to control home automatic appliances. It can also work like Google Home and Amazon Echo to control home appliances. Apple HomeKit means Siri is integrated with iTunes and Apple Music. Apple HomeKit is preferred by people who have iOS 10 equipped gadgets or Apple TV. So, you can use easily control your Apple products.
Unlike Google Home and Amazon Echo, Apple HomeKit isn't trying to sell consumers on a new, physical hub. There are some benefits there: Your existing, iOS 10-equipped iDevice (including iPhones, iPads, Apple Watches, or Apple TVs) can serve as the nexus for your intelligent apartment through the Home app and with voice activation commands to Siri, the longtime virtual assistant available with Apple devices. This means you can stock up on all the HomeKit compatible products you want and simply make sure your devices' operating systems are up to date.
The main thing to understand about the Apple HomeKit is that it's not a physical hub you buy, but Apple's framework for communicating with and controlling connected accessories in a user's home. Apple HomeKit is the choice for iPeople—folks who already have iOS 10-equipped or iOS 10-ready mobile devices (that's a lot of us) or a new Apple TV from the company. If you primarily use an Android device, HomeKit likely isn't the best option for you. The Home app comes standard with iOS 10 on any Apple mobile device. You can purchase Apple devices capable of launching the Home app at the Apple website or at an Apple retail shop. Just tap Siri, and the iOS built-in "intelligent assistant" will make your wish its command.
"Mac-heads and Apple fanboys will gravitate toward this technology," Bradford says. So if you can't go a day without your iPhone, MacBook Air, or Apple Watch, this might be the smart home solution for you.Although the HomeKit brings the convenience of having control at your fingertips, that's kind of a problem.You don't see a lot of people adopting the HomeKit for the simple fact that on older versions of this app, you have to push a button to activate Siri to make a voice command.

People are looking for the quickest way to do things, and having to push a button adds an extra step. They'd rather be able to just yell into their living room to get their device to work. This has been worked upon and the latest iteration of Siri can be activated by voice alone with a "Hey, Siri." Yet some phones must be plugged in, or at least pulled out of your pocket. So, hands-free, this is not. You can get give it a try if you're a diehard Apple fan and never plan to change.
The Amazon Echo Vs Google Home Vs Apple HomeKit
Here's a rundown of your three main options, along with the features they support and the devices they are compatible with.
Amazon Echo Vs Google Home Vs Apple HomeKit Feature-wise Comparison

Features
Alexa (Echo)
Google Home
HomeKit/Siri
Price
$180
$130
$230 approx.
Responds to voice commands
Yes
Yes
Yes
Always listening
Yes
Yes
Yes
Wake word
Alexa, Echo, Amazon or Computer
OK Google, or Hey Google
"Hey, Siri"
Music streaming options
Amazon Prime Music, Spotify, Pandora, iHeartRadio, TuneIn, others
Google Play Music, YouTube Music, Spotify, Pandora, TuneIn
Yes, Available
Smart home partnerships
Nest, Ecobee, Honeywell, SmartThings, Wink, Insteon, Belkin WeMo, Philips Hue, Lifx, Lutron, August, Logitech Harmony, Anova, Big Ass Fans, IFTTT, Control4, Crestron, other devices via skills
Nest, Honeywell, SmartThings, Wink, Belkin WeMo, Philips Hue, Lifx, Lutron, August, Logitech Harmony, Anova, IFTTT and others
iOS 10-equipped iDevice (including iPhones, iPads, Apple Watches, or Apple TVs) can serve as the nexus for your intelligent apartment through the Home app
Customizable appearance
No
Yes
Info not available
Output to stereo system
Yes, via Bluetooth and the Echo Dot
Yes, via Chromecast
Yes, via Siri
Synced audio playback to multiple devices
No
Yes, to any Google Cast device
Via Siri
Personal assistant highlights
Add items to calendar, make a shopping list, make a to do list, check flight status, track a package
Search Google, get a personalized daily briefing, check traffic, check your calendar, make a shopping list, check flight status, track a package
send texts messages, search Twitter, and open up your front-facing camera,payments, VoIP calling, and ride booking.
Other features
Order a pizza, play a game, arrange an Uber pickup. Echo has an ever-growing list of thousands of skills and counting
Cast to your TV with Chromecast, launch and control YouTube or Netflix via Chromecast
Info not available
Amazon Echo Vs Google Home Vs Apple HomeKit Device Compatibility

Lights/switches
Alexa (Echo)
Google Home
HomeKit/Siri
Philips Hue
Yes
Yes
Yes
LIFX
Yes
Yes
In Process
Lightify
Yes
No
No
TP-Link bulbs
Yes
Yes
No
Sengled bulbs
Yes
No
No
Lutron Caseta
Yes
Yes
Yes
Belkin Wemo
Yes
Yes
No
D-Link smart plug
Yes
No
No
Leviton switches
Yes
No
Yes
Smart hubs
Alexa (Echo)
Google Home
HomeKit/Siri
Wink
Yes
Yes
No
Logitech Harmony
Yes
Yes
No
Insteon
Yes
No
Yes
Scout
Yes
No
No
Lowe's Iris
Yes
No
No
Control4
Yes
No
No
Crestron
Yes
No
No
SmartThings
Yes
Yes
No
Smart thermostat
Alexa (Echo)
Google Home
HomeKit/Siri
Nest
Yes
Yes
No
Ecobee3
Yes
No
Yes
Honeywell Lyric
Yes
No
Yes
Sensi
Yes
No
Coming
Netatmo
Yes
No
No
Other smart devices
Alexa (Echo)
Google Home
HomeKit/Siri
Roomba
Yes
No
No
Neato
Yes
Yes
No
Garagio
Yes
No
No
Gogogate
Yes
No
No
August lock
Yes
Yes
Yes
Rachio
Yes
No
No
BAF
Yes
No
No
IFTTT
Yes
Yes
No
Yonomi
Yes
No
No
Alarm.com
Yes
No
No
Challenges Facing Connected Homes
Home automation is still limited to a few households because of its high cost and complexity. There are certain reasons because of which smart homes are not quite the mainstream. Manufacturers from all industries are coming up with their own solutions to the table but are also have a tough time with their own pain points. A significant amount of adoption is required to unlock the value in this market.
Operational Knowhow: People's ability and knowledge to handle and comprehend the technicality of the system. It's not as simple as it seems.  No device can work without instructions so one should know how to operate and set the device so that it works as per the demands.
Unsure Investment: People are reluctant to invest a huge amount of money for something about which they are unsure because there is still not a standard system for home automation. Many think of it as a concept that may not flourish for long.
Hacker Risk: A smart home is subject to a lot of risk of being hacked allowing intruders to break-in because of its advanced automation. Once hacked, the whole control would be handed over to the hacker and then even the owner would lose access to his/her own house.
Data Monetization: Software and ecosystem players are deciding which piece of the value chain to play in as monetizing data collection in the ecosystem is difficult.
Equipped Salesforce: Service providers (e.g., utilities, home security) need to build sales force capability for complex connected-home devices and create technological capability across the company.
Distinctive Features: Hardware manufacturers and consumer electronics have difficulty creating distinctive features that could increase margins as they suffer lack of brand loyalty in an immature market.
Data Ownership: Telecom and cable providers experience a tough time fighting for ownership of customer data and home interfaces with ecosystem players. Connected home competes with existing, high margin products for sales associate and marketing focus.
Merits and Demerits of Smart Homes
Who doesn't love automatically managing security systems, controlling sprinkler systems, coordinating outlets, and turning appliances on and off while away?
Although these devices are certainly not new to the market, many systems have become much more affordable in the past few years, and the use of home automation is now more widespread than it has ever been before.

But is it right for you? Here are a few ifs and buts to help answer that question.
Saving Energy: Home automation systems have definitely proven themselves in the arena of energy efficiency. Actual energy savings ultimately depend on the type of device you select and its automation capabilities. But on average, product manufacturers estimate the systems can help consumers save anywhere from 10 to 15 percent off of heating and cooling bills.
Convenience: The less you have to worry about, the better. Right? Convenience is another primary selling point of home automation devices. Many systems come with remote dashboard capabilities. Simply pull up the dashboard on a smart device or computer, and turn the device off in a matter of seconds.
:
Security: Remote monitoring can put your mind at ease while you're away from the house. With remote dashboards capability combined with automated security systems help you mitigate the risks of intrusions: you will be alerted immediately if something uncharacteristic happens.
Installation: Depending on the complexity of the system, installing a home automation device can be a significant burden on the homeowner. It can either cost you money if you hire an outside contractor or cost you time if you venture to do it yourself.
Technology: Sometimes a good old-fashioned flip of the switch is a lot easier than reaching for your smartphone to turn lights on and off. Automating everything in life may sound extremely appealing, but before you decide which system is right for you, think about how far you really want to take home automation in your household.
System Compatibility: To truly leverage the convenience of home automation, you may need to invest in centralized platform technology to control all systems and devices from one location. Controlling all aspects of home automation from one centralized platform is important, but not all systems are compatible with one another.
Cost: Even though the price of home automation systems has become much more affordable in recent years, the cost to purchase and install a device can still add up.
Business Opportunities In Home Automation
The trend of automating home activities by using intelligent terminals to control appliances and equipment has started gaining popularity. Connected home presents numerous growth opportunities for businesses. However, in order to utilise these opportunities, service providers will need to develop innovative business models,  embrace new technologies, create new partnerships and address new markets.
Explore new business models: Healthcare and assisted living has been transformed with patient monitoring, device management and communication merging seamlessly in real time. This was possible due to the emergence of connected devices. This will enable better collaboration between medics, hospitals and drug companies, improve diagnostics and give rise to innovative business models. For instance,  the billing could be based on usage/time or nature of intervention, rather than a fixed consultation fees.
Establish partnerships: The demand for media sharing services that can connect all the devices used in a home already exists, but the surge in demand for personalized entertainment services will call for new partnerships. The demand for online content seems to be very promising in the near future and the migration to an all-IP environment will enable consistency and convenience anytime, anywhere media and on any device.
Technology Integration: As evolving networking technologies move towards uniform standards, new possibilities are emerging out of this convergence. For instance, a data download can raise a notification if it is already present on any device in the connected home.
Or a call on a mobile phone could automatically and seamlessly switch to the home's wi-fi network once the user is home. Such convergence will give rise to many new services.
New billing & revenue models: Combining several services into a single mobile number will eliminate the need to manage multiple bills. This will initiate the emergence of new billing models based on time of day, seasonality and location or even the type of device. Targeting specific customers with content based on screen size, location, season will be much easier for advertisers and will also give an understanding of the home's technological ecosystem (devices owned, usage, etc). This will increase the flexibility and effectiveness of the advertising models. An advertisement delivered on TV over cable can result in an immediate purchase via the TV's online connectivity.
Smart Home Is Future
Home automation is the present and future. There are already a plethora of smart products you can pick up to make your home smarter. Despite all the technological advancements and innovative products, there is a constant mental conflict as to how important it is to automate everything around us. The question is, do we really need smart homes? Although it's less about convenience and more about home security, yet the most basic things always start with handing over the work to machines.
The market for smart home solutions is promising. The smart home market is predicted to boom to a $121 million market by 2022. Even so, entrepreneurs may have to wait for some consumers to catch up with the technology. Although prices of the devices are now within reach for most consumers, a third of consumers say they're not comfortable with smart technology, which could hinder adoption. Older generations are especially reluctant, as they consider themselves technology novices or beginners, potentially hindering their adoption of smart home solutions. This may explain why nearly six in 10 respondents still don't have any automation devices for the home.
Smart home companies still have a large untapped market for the devices. Rapid urbanization, growing tech savvy population and modern day living challenges provide great opportunity to the growth of digital homes. However, businesses need to quickly address practical challenges to boost customer confidence in home automation technologies. The future looks interesting for smart homes.