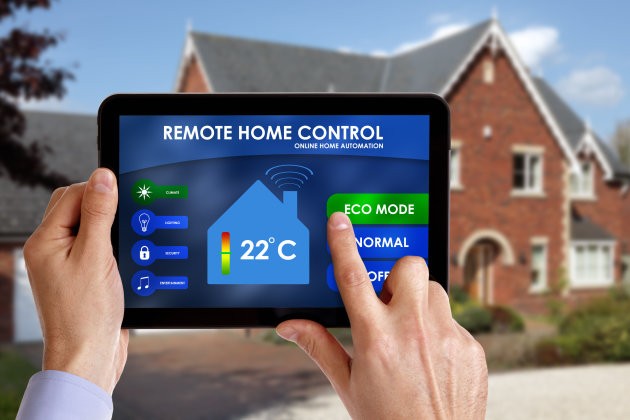 Image source- Engadget
Human race is getting smarter day by day or rather minute by minute, with the help of various electronic gadgets, instruments and devices, not to forget the "mother of all" INTERNET. An electronic revolution, arguably started with mobile phones, now has almost engulfed all the household items.
The world saw its first smartphone 20 years ago and since then we have taken a giant leap into a new world order. Your living room is now filled with flurry of smart devices (smart TV, smart appliances, smart lights, smart Thermostat etc. And we reached a tipping point where we begin to feel "less is more"!!!
To control this ever increasing list of smart gadgets, we have a perfect solution goes by the name "Connected Home". The connected home is an aggregation of disparate services to the home.
What is a connected home?
Breaking the jargons, connected home is a networked home to which multiple different services are delivered over broadband. From your TV, home appliances, home automation tools to your energy meters- all are connected, exchange real-time data and take intelligent decisions to cater to your various needs.
The wide range of innovations in smart devices due to the development of Microelectromechanical Systems (MEMS) and Internet of Things (IOT) make it attractive and easier for companies to come up with the connected home devices now than ever before.
The entry point for a connected home is a good broadband connection of at least 6 Mbps and all the devices should be hooked with the broadband all the time for a seamless connected services and a greater interoperability.
For example, a smart meter is an energy/water meter which connects to a communications network to send meter readings to a remote server or to a TV, receive price information from the server and, enable intelligent decision making and control of appliances. The smart meter is typically fitted with a display which allows users to get more information about their consumption.
With the help of the example explained above it is evident that a connected home of more such devices, is sure to make things easier and living more comfortable. Easier said than done!
The challenges
The main challenge is the broadband connection in terms of speed and bandwidth. Next challenge is going to be the framework which presents the connected home as a single environment. Combinations of wired and wireless technologies, different types of cables, and multiple standards within them make it difficult.
There is no clear value proposition or a clear 'connected home' product that can be bought by the consumers as of now. But provided solutions to all the current challenges and a structured framework, connected home is believed to grow at a compound rate of 67% over the next five years. Seeing industry majors already launching products in this space, it is undeniably possible that one day our homes will get smarter than their creator!