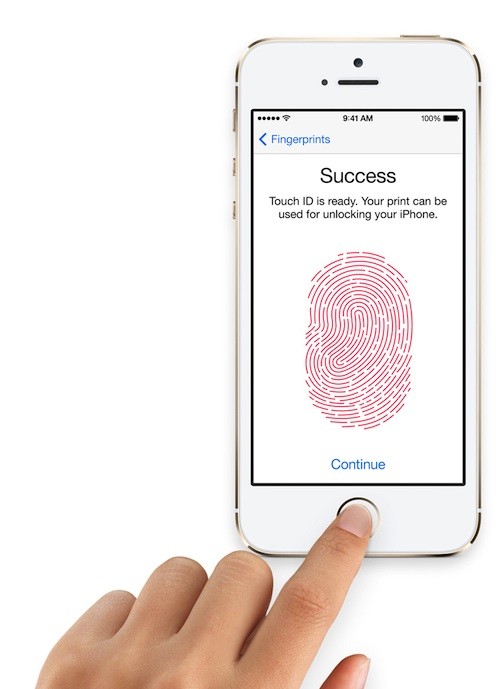 Touch ID is Apple's biometric fingerprint authentication technology, which was introduced with the iPhone 5s. In iOS 8, it is now possible to locally authenticate users by making use of Touch ID. This article describes how to use Local Authentication framework to authenticate an iOS 8 application.
Overview
Touch ID was introduced in iOS 7 as a means of authenticating the user. It can be used similar to a passcode authentication.
In iOS7, it was limited to
unlocking the device
using the App Store
But in iOS 8, it is possible to integrate Touch ID in third party applications using the Local Authentication API.
Note: Currently It is not possible to use Local Authentication to authenticate from a remote server.
Requirements
The following is required for a developer to implement the Touch ID in their applications:
Xcode 6.x and iOS 8.x – Apple's Xcode 6 and iOS 8 APIs need to be installed and configured on the developer's computer.
iOS 8 Device – An iOS device running the latest version of iOS 8 for testing (Touch ID is available only on iPhone 5S and greater)
Fingerprint and passcode – Device should be registered with at least one fingerprint and passcode should be turned on.
How to add Fingerprint and Passcode
On your iPhone or iPad, tap the Settings icon.
Scroll down the screen and tap the setting for Touch ID & Passcode.
Tap the setting to Add a Fingerprint. At the next screen, place your finger on the Home button. The next screen will ask you to repeatedly lift and rest your finger on the Home button as it reads your print. The final screen will capture the edges of your fingerprint, so tap the Continue link and again keep tapping on the Home button.
After your fingerprint has been registered, the next screen will tell you that Touch ID is ready. Tap the Continue button to proceed.
Touch ID requires that you set up a passcode to serve as an alternative security method just in case your fingerprint is ever unable to access your phone.
Enter a 4-digit passcode and then enter it again to confirm it. Both Touch ID and your passcode are now set up.
Local Authentication
To use Touch ID with the Local Authentication API, there are a few functions that we can use. These are detailed below:
CanEvaluatePolicy – This will simply check to see if the device is capable of accepting Touch ID.
EvaluatePolicy – This starts the authentication operation and displays the UI, and returns a true or false answer.
DeviceOwnerAuthenticationWithBiometrics – This is the policy that can be used to show the Touch ID screen. It is worth noting that there is no passcode fallback mechanism here, instead you should implement this fallback in your application to allow users to skip the Touch ID authentication.
There are a few caveats with using Local Authentication, which are listed below:
It can only be run in the foreground. Calling it on a background thread will cause it to fail.
Keep in mind that the policy evaluation may fail. A passcode button will need to be implemented as a fall back.
You must supply a localizedReason to explain why Authentication is needed. This helps to build trust with the user.
Local Authentication provides a new standard user interface for authentication. In the case of Touch ID, this is an alert view with two buttons as illustrated below. One button to cancel, and one to use the fallback means of authentication. There is also a custom message that must be set. It is a good practice to use this to explain to the user why Touch ID authentication is required.
The Objective-C code snippet :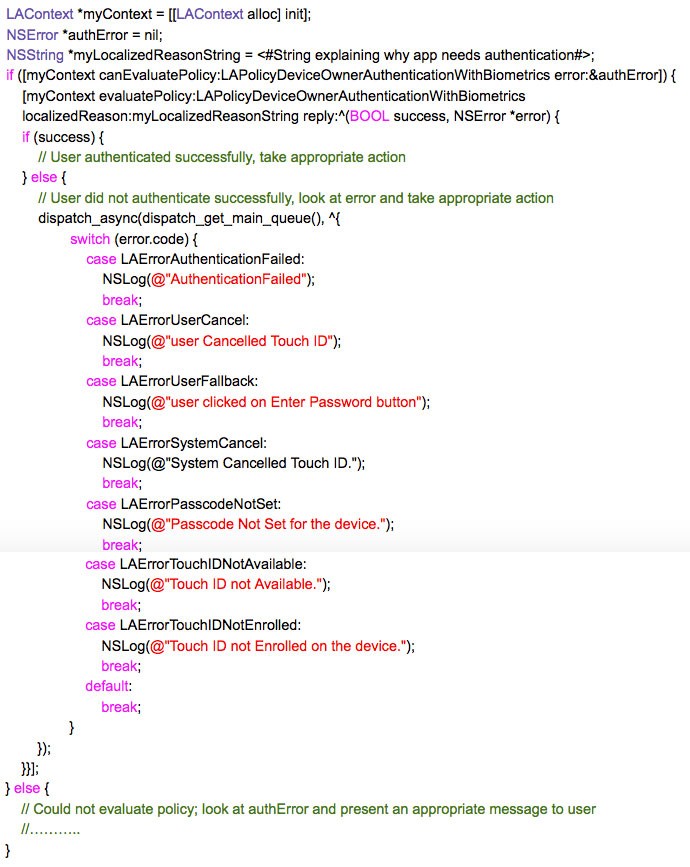 The Swift code snippet: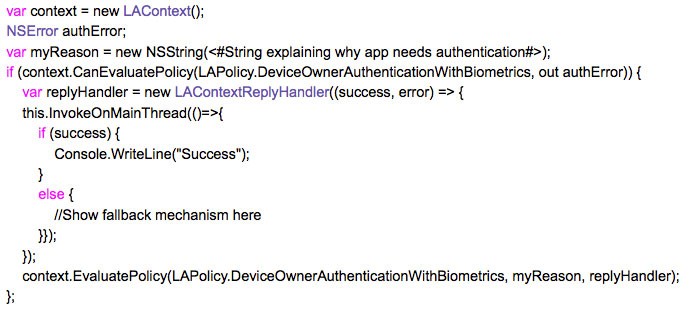 Limitation
As the name indicates, Local Authentication framework can only be used for authenticating the applications locally. Currently it is not possible to authenticate to a remote server.
Drawback
An iOS 8 device is capable of registering a maximum five fingerprints. With any of the registered fingerprint user can authenticate the application. There is no way to restrict the authentication for a particular fingerprint only.
Image Source- Macrumors.com
(Amarnath Reddy works as Software Engineer at [x]cubeLABS. He has over 3 years of experience in iOS and Mobile Web Application Development.)