Mobile app marketing is the newest and happening trend now, which seems to be growing at an amazing scale every year. Currently, there are over 2 million mobile apps in major app stores. But not every mobile app released becomes successful. Your app has to be really unique to be successful and should offer real value to users to sustain it.
1. App store optimization (ASO)
Similar to the Search Engine Optimization (SEO) we do for a desktop website, App Store Optimization is very important to market your mobile application. It's also important for a new mobile app to get visibility among the ever-expanding app stores. Consider the below techniques to help your app to get more reach.
Title: It must be short, relevant and eye catching. Your app's search rating can be improved by 10.3% by having a right keyword in your title.
Description: Punchy description and targeted keywords improve the ratings.
Type/Category: The app should be aptly categorized to help users who do a category search rather than a particular app search.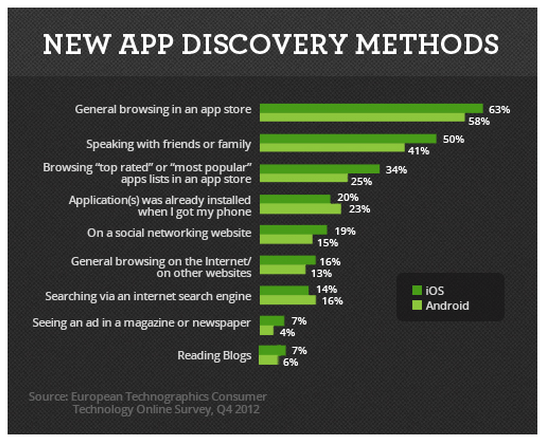 2. Ad Networks
After finding out your target audience, the next step is to find the apps they most likely download to post in-app ads of your app on the targeted app. Though Facebook and other social apps are always a safe bet to post your ads, options like AdMob from Google and iAd from Apple can boost your app on various platforms. Ad networks have a click-through rate of mere 1% but this number can improve your app store ratings.
3. Mobile-Friendly Content
Mobile app experience is totally unique and entirely different from the website user experience. The design should be very simple and minimalistic keeping in mind that entering data in mobile devices is comparatively time-consuming than desktop. Make use of the advantage of other mobile features like allowing users to use the map, GPS and other mobile applications. The screenshot below is an excellent example of how a mobile-friendly design can improve the user experience.
4. Sustaining Loyal Users
Retaining existing users is the biggest challenge. It has been found that 90% of the users are gone in 6 months for most apps. To avoid this, you have got to make every user feel special. Following are the ways to sustain a loyal base.
Release features and upgrade versions of your app regularly and find a recurring use case which makes users come back to your app again and again.
Send push notifications to your users giving them current status, profile look or special offers like discounts, coupons, etc., based on your business.
5. Social Media
Last but definitely not the least is the social media. Making your users market your app is the best way of marketing, which is also the toughest to achieve. Social media is one such tool which multiplies your return on investment through word of mouth communication. It also gives a platform to users to give suggestions, and developers to address the queries.
These tips, if followed wisely and diligently, will really grow your app and help you achieve a great success in mobile marketing.