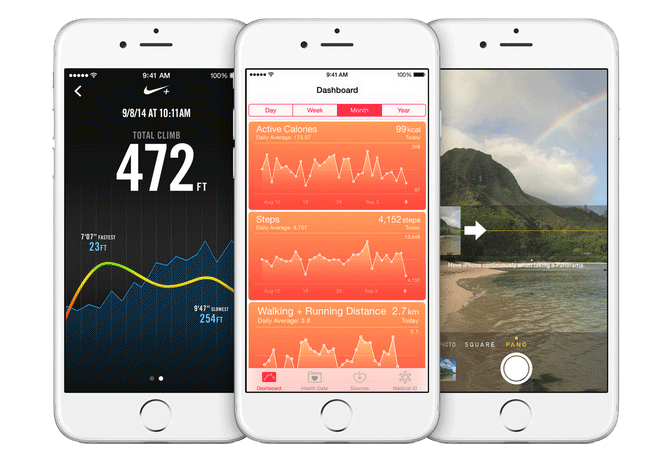 Today's smartphones not only serve as the key computing device and provide a smart way of communication, but also come with a rich set of sensors enabling applications in a wide variety of domains like social networking, healthcare, safety, environmental monitoring, transportation and home automation, to mention a few. Well that's what really sets apart a smartphone from laptops and PCs — all of its on-board sensors besides its portability.
As embedded sensor technologies advance with each passing day, mobile sensing gets more powerful. So today let's discover the world of mobile sensors.
What does a sensor do?
A sensor is a device that detects and responds to some type of input from the physical environment. The specific input could be light, heat, motion, moisture, pressure, or other environmental phenomena.
The input data is then converted into digital signal and processed to display the required information to the user in human-readable format through some graphical interface, in our case on a smartphone screen.
Built-in sensors in iPhones
There are many sensors available on-board in an iPhone. To list a few
Camera: To take pictures, videos and do image processing like QR code, Bar code reading, face/smile detection.
Proximity sensor: Used to detect closeness of physical body to a phone during a call.
Ambient light sensor: Senses the light of outside environment and adjusts the screen brightness.
Magnetometer: Used to detect strong magnetic field and used in the digital compass application of your phone.
Accelerometer & gyroscope: Checks position and orientation of device accurately and device motion.
Microphone: Used for speech synthesis.
Fingerprint identifier: Provides security through local authentication.
From seamless touch sensors on your device screen to GPS sensors to biometric sensors, the mobile smartphones are getting more powerful and secure as mobile sensors are becoming ubiquitous.
Usability
Although smartphones as mobile sensing devices have great potential, there has been little or no advancement in this field until recently. Usage of mobile sensing was perceived early but technology advancement has kept it struggling to evolve. As the evolution has begun, here are a few use cases where it can contribute a lot.
Surveys: As phones can be programmed through applications to share real-time activity of users, it opens a gateway between researchers and common public to make surveys and get volume information in many fields ranging from healthcare and marketing to social networking, and business.
Environmental monitoring: Sensors could enable monitoring environmental conditions like temperature, pressure, humidity, pollution and air quality, and provide more awareness to consumers.
Healthcare: We've seen smartphone makers recently plunging into healthcare innovation by enabling to monitor your daily activities like walking, running, heartbeat calculation, etc., through sensors which can dramatically transform how health and wellness data are accessed and treatment is delivered.
Traffic congestion: As population in urban areas continues to grow, traffic congestion generates more complications. Mobile sensing can deliver real-time data of a particular area or city which can be used to analyze and produce better solutions.
However, these are just a few areas and the usability of mobile sensors lays beyond the scope of this blog.
The key driver
As researchers are striving to bring innovation to embedded sensors in devices, the market is gaining momentum propelled by the goal to have a leading market share among smartphone makers.
It's no secret that Apple is developing new sensors – and has already introduced some – to embrace health and fitness sensor technologies to revolutionize healthcare research field, besides home automation.
While many of the possibilities are still veiled, the requirement of mobile sensors in the future smartphones is about to expand. It is believed that mobile payment will continue to be the primary driver for fingerprint sensors whereas RFID for NFC (Near Field Communication) will expand over the coming years due to healthcare research requirement.
With more than 10 billion smartphones and tablets expected to be shipped in the next five years, related component volumes are about to soar with expected revenue to grow from $3 million in 2012 to $3 billion in 2019.
Something to take over
As the evolution of embedded sensors has begun, we may see many new and powerful sensors in the future. In a public event, Apple CEO Tim cook said: "The whole sensor field is going to explode. It's a little all over the place right now. With the arc of time, it will become clearer."