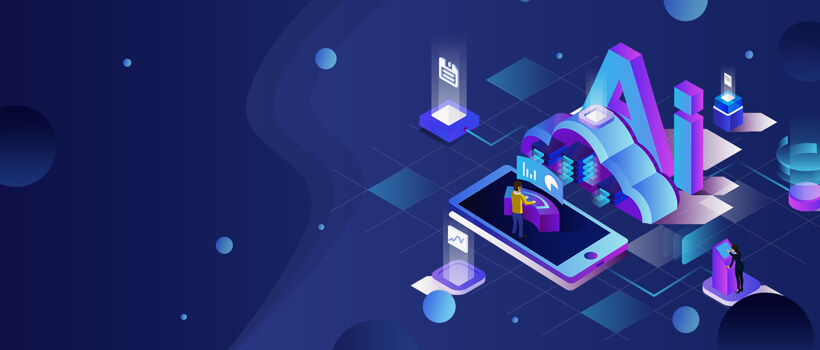 Table of contents
AI is the engineering and science of developing intelligent machines, brilliant computer programs. AI, in this context, is a series of techniques, processes, and technologies that exhibit intelligent behaviour by analyzing the environments around and taking necessary actions.
Artificial intelligence is gaining a lot of applicability now, faster than ever before, because we've learned that the human workforce cannot always be there. The pandemic has got an upsurge in companies interested in AI technologies, thus making them modify, change and accelerate their adoption strategies.
The energy sector is not falling behind in adopting and leveraging the benefits of artificial intelligence. There are many applications of AI that aim to optimize processes, predict issues, opportunities, and help save money. According to a report by BNEF estimates, the Economic Transition Scenario will need a $15.1 trillion investment in solar, wind and batteries, and a $14 trillion in power grid investment by 2050.
AI is starting to show some of its most potent effects in the utility and power industries. Power companies are increasingly counting on artificial intelligence (AI) to improve the energy supply. The global energy industry faces a problem because of the increased demand, supply, efficiency, and demand patterns. Still, the issue is about the absence of analytics required for optimum management. These difficulties are aggravated in a lot of developing countries. Here's where AI. is playing a significant role.
The application of artificial intelligence (AI) in the power sector is increasingly reaching the emerging economies, where it is playing a significant impact because these emerging economies understand clean, inexpensive, and dependable electricity is essential for growth.
According to stats by Harvard, By 2040, world energy consumption is expected to increase by 15.3%.
AI is the technology of the century. It might look like the combination of the energy sector, and artificial intelligence is too complicated to be efficient. But take a glance at the top applications of AI in the energy sector and understand how we can incorporate AI. in energy firms.
Preventive Maintenance

Predictive maintenance plays a crucial role in the energy industry as the resources have to be managed carefully and efficiently. Otherwise, it can be hazardous. Faulty equipment or defects in pipes/wiring/machines or fault-susceptible process lines pose a considerable threat, and humans cannot predict every breakdown. Here's where AI comes into play;artificial intelligence helps identify defects like corrosion, cracks, inadequate insulation and help prevent failures.

Predictive maintenance lets organizations maximize the utilization of equipment or machine components – all of this while maintaining all safety standards. AI. helps to validate production quality and provide deep insights into defects with the help of analytics. AI-powered Fault Detection solutions are pretty economical and also cost-effective. Predictive analytics help the operators evaluate the equipment's health state, enabling proactive measures to prevent a catastrophe. Schneider Electric uses Microsoft's machine learning capabilities to remotely monitor and configure pumps in the oil and gas field. Early detection of a pump failure can save up to $1 million in repair costs.

AI in Grid Management

With the increase in decentralization and digitalization of the power grid, managing many grid participants and balancing the grid is challenging; this requires evaluating and analyzing an overflow of data. Artificial Intelligence helps process this data quickly and efficiently.

Smart grids are another area of application where AI. plays a key role. Especially with an upsurge in the number of volatile power generation plants like solar and wind, it has become essential for power generation industries to respond intelligently to energy consumption. These intelligent Grids transport not only electricity but also data. AI. helps to analyze, evaluate and control this data from different consumers, producers, and storage facilities connected with the help of the grid.

helps stabilize the power grid by detecting irregular consumption, generation, and transmission in real-time and developing appropriate solutions.

The adoption of electric vehicles and electrification of heating systems in the next 10-15 years will add complexness to global energy grids. Dependency on a central utility to produce and transmit electricity will reduce as other sources start making energy through solar panels, storing it in batteries and electric vehicles, and feeding it back to the grid.

Intelligent Resource Management.

Resource management is the next phase after AI. forecasting and preventive maintenance for the energy sector. With intelligent AI-powered predictive mechanisms, energy suppliers can dispatch their resources better, prepare for demand in advance, predict issues, and save resources whenever it is possible. Proper resource management helps in an increase in efficiency and also lowers cost expenses. Power-saving with AI. will help lower utility bills and customized services for end clients, one of the meaningful benefits of artificial intelligence in the energy market. Applying AI in resource management can cut business and end-customer costs. How? Thanks to predictive mechanisms, energy providers can get accurate forecasts that improve energy scheduling and power plant dispatch. When they have the appropriate information in advance, corporations can better prepare for demand, predict issues, increase grid stability, and save resources.

AI-powered Consumption (Smart Power)

The Energy Information Administration (EIA) of the US report states that nearly half of U.S. energy users have smart electrical meters installed at their houses. These meters provide data about personal energy consumption, and that data can be used to make better forecasts about upcoming energy usage levels, thus helping customers regulate their consumption better.

According to the EIA, intelligent power consumption through AI-driven intelligent home solutions through companies like Google and Amazon are being adopted at a large scale. These smart devices communicate with other household devices to identify energy waste. For instance, consumers can figure out when the cheapest time is to charge their electronic vehicles or run their air conditioners, thus helping the energy industry optimize their energy storage.

Logistics Network Optimizations 

The supply chain in a particular energy sector like the oil & gas industry is complex operations that involve decision making for environmental recycling companies and gas producers/distributors for LPG. These organizations have to make tough decisions like purchase, purchase price, petroleum refining operations, gantry operations, and transportation. In this business, AI. helps coordinate the operations team with the warehouse to ensure the availability of crucial products like refill tanks.

In a nutshell, AI. aids Energy & utility companies in predicting the market price of electricity/gas. AI. can support proper planning and implementation in these LPG businesses, optimal route selection, etc. It helps refiners predict the optimal demand blending, evaluate the prices, and improvise customer relationships, usually in the downstream oil & gas business. Also, AI. helps in proper planning and scheduling, enabling optimization of the energy price, creating an intelligent warehouse, maintenance of inventories, handling shipping operations for replacing assets, risk hedging, and improvising the delivery times & thus reducing the overall expenses.

The above graph states the Past and projected U.S. energy consumption in a quadrillion. The graph chart shows that by 2040, world energy consumption is expected to increase by 15.3%. The Data was retrieved from the U.S. Energy Information Administration.
Conclusion 
With the global energy industry not resistant to the COVID-19 pandemic, renewed focus has been placed on upping economic efficiency. To that end, market players use machine learning to improve predictive capabilities, increase transparency in energy trading, integrate renewable energy sources, manage intelligent grids and storage, and give life to unmanned drones. AI in numerous domains proves its value to the energy transition, causing measurable improvements in renewable energy forecasting, grid operations and optimization, distributed energy assets, demand-side management, and materials discovery and innovation.
AI. holds far more significant potential to accelerate the global energy transition. While AI Applications in the energy sector have been innovative, promising, yet adoption remains limited. AI gives an incredible opportunity to accelerate the growth towards the highly efficient, zero-emission, and interconnected energy system that we need for a better tomorrow.
As time passes, We will only realize more incredible AI. adoption, innovation, and collaboration across the energy industries. This is one of the reasons why the World Economic Forum has released a report called Harnessing AI. to Accelerate the Energy Transition, which defines and catalyzes the needed actions.
For those looking to change the energy industry's future, the interface between AI. and energy is a wonderful place to start. Technological innovation has drastically changed how we assume these two industries and their integration. Their synergy may transform the world like we never comprehended, and they are primed for innovative thinkers to make their mark.