Lean Startup has travelled a lot from being a buzz word to a movement that is sprouting new ways for product developments and business processes. The 2013 Lean Startup Conference is yet another opportunity for all of us to learn new success stories, fresh case studies and read into the minds of business leaders, entrepreneurs and practitioners from other walks of life.
Our CEO Mr. Bharath Lingam will be attending 2013 Lean Startup Conference along with other members from the [x]cube management team. If you too are attending the event then we look forward to meet you all. You can connect with Bharath on his twitter account @bharath007 or reach us @xcubelabs.
But there's also an opportunity for you to win an iPad!
[x]cube LABS is running a #leanstartupco Twitter contest where you have a chance to win an iPad on each day of conference by sharing with us your thoughts and key takeaways on the conference. Here's what you need to do to win an iPad
Step 1
Tweet your thoughts/ key takeaways on the conference @xcubelabs. and use the hashtag #leanstartupco
Step 2
We will monitor and collect all such tweets @xcubelabs. with the hashtag #leanstartupco and send them to our judges
Step 3
An eminent panel of judges will select the best tweet of the day and the sender will be awarded an iPad.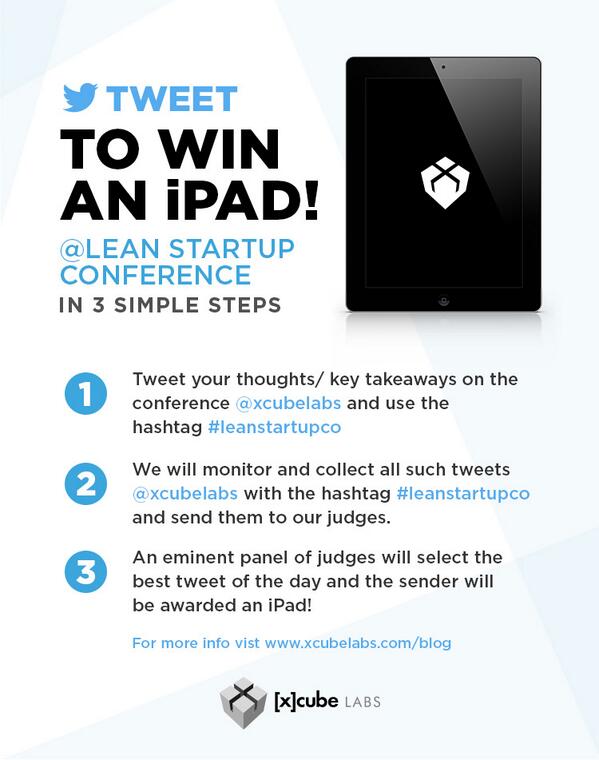 Contest Rules
– You can tweet as many responses as you want.
– The contest will run for two days i.e. on December 9th and 10th.
– Winners will be decided by a panel of eminent judges.
– Winners will be announced on twitter as well as officially informed by the conference organizers.