The wearable technology market is exploding…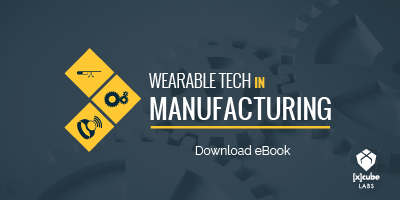 Research firm Strategy Analytics predicts massive surge in the wearables industry with revenue in the global wearable devices market expected to reach $37 billion in 2020 from $1 billion in 2014.

Juniper Research predicts shipments of wearable devices to be almost 130 million by 2018.
From being a consumer fad to becoming the latest enterprise phenomena-wearables have come a long way. And, there are very few industries as manufacturing that have huge opportunities for embracing wearables and leveraging it to gain new efficiencies. From product design & development, shop floor operations to worker's training and safety- wearables have the potential to play a major role in the entire value chain. How? Here's 5 application areas in the manufacturing industry where wearable technology can make a significant impact:
1. Improving Employee Safety
Imagine having employees operating a press machine from a distance using a glass, or operating the paint booths with the tap of a finger. Wearable tech has tremendous potential to improve the safety of the workers by providing them a hands-free, face up environment to work.
2. Field Service
In industries like maintenance which require workers to work at a height and also underground, wearable devices can play a greater role. It can help workers connect to their managers to collaborate and take decisions. They can also get access to online support tools aiding in resolving issues faster. Gartner research predicts that wearables could help personnel diagnose and repair problems more quickly, saving up to $1 billion annually in 3 to 5 years.
3. Line Monitoring
Wearable reduces the need of your worker to be tied to his workstation for long hours to monitor the assembly line. It enables you to monitor various aspects like line speed, or failure of any component or machine from anywhere. You can also control the process and manage operations with the device.
4. Employee Monitoring
Imagine a situation where you can schedule employee breaks depending on their fatigue levels. This empowers the managers to manage their workers more efficiently and also reduce the risks of mishaps, as most of the mishaps are found to be caused due to lack of concentration originating from tiredness.
5. Warehouse Management
Wearable tech like sensors, watches and Google Glass enables anyone having to work in a warehouse to locate goods stored, maintain the inventory, order in case of shortage — all at the tap of a finger on the device. This saves on time, reduces chances of misplacements and reduces downtime.
6. Employee Training
Wearables can be used by enterprises to improve training facilities or sessions and helping workers learn on the shop floors. This will save time and help manufacturers take training out from the confines of training rooms. Moreover, it will also help employees access learning material on the move anywhere, anytime.
Wearables promises exciting possibilities for manufacturers. But where to begin? Download our latest ebook 'Wearable Tech in Manufacturing' to gain deep understanding and insights on-
What's driving wearables in manufacturing?
Industrial Wearables in action in the industry.
The big gains
Steps to Success and high ROI